Dark, darker, darkest.
Despite its title, that's the extent of the color palette in High White Sun, J. Todd Scott's second crime thriller starring Chris Cherry, at 26 the unlikely
sheriff of Big Bend County, Texas. Those who appreciated the noir shade of Scott's blood-soaked debut, The Far Empty, will relish the even bloodier tale that unfolds in Sun. Those hoping that, this time around at least, a few rays of metaphorical sunlight will visit Sheriff Cherry's sun-blasted corner of desiccated south Texas will be disappointed.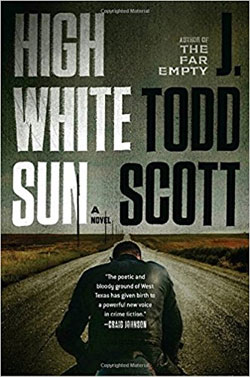 Scott's strong descriptive skills make the literal sun over Big Bend County one of the stars of High White Sun. Day after godforsaken day, it scorches young Sheriff Cherry and his crew of underpaid, overworked deputies as they search for the killer, or killers, of a Rio Grande raft guide found beaten to death outside a seedy riverside bar.
The investigation into the guide's killing leads Cherry and his deputies to a largely abandoned mining town in the far reaches of the county recently inhabited by John Wesley Earl, a general in the Aryan Brotherhood of Texas, and his band of tattooed, trigger-happy followers.
Scott's character descriptions, in particular, are worthy of savoring. Scott describes Cherry's new, highly experienced chief deputy, Ben Harper, as "still goodlooking in a sharp-edged, cut-your-finger sort of way. He was too damn thin — always pulled tight like a wire — with his peppered hair shaved down to a memory and his eyes the color of a cold sky threatening snow."
In the Big Bend world conjured by Scott, even the good guys like Chief Deputy Harper are bad around the edges. Harper is a confessed murderer, while Cherry's second-best deputy is hiding a suitcase full of drug money at home in her closet.
The Aryan Brotherhood bad guys, meanwhile, are many shades worse. When they come after Cherry and his crew, the serial rounds of violence that follow provide every variation — fire bombings, car chases, hostage takings, shootouts — of the blood-red-tinged fireworks that make crime thrillers thrilling.
On the heels of the release last month of High White Sun to deservedly glowing reviews, Scott reports that the writing of his third crime thriller, This Side of Night, is complete. That book is slated for release next year, with a standalone novel in the works for 2020. That makes for more great writing to look forward to from Scott, a career federal lawman fast becoming one of America's top crime writers.
Scott Graham is the National Outdoor Book Award-winning author of the National Park Mystery Series for Torrey House Press. The fourth book in the series, Yosemite Fall, will be released in June. Visit scottfranklingraham.com.