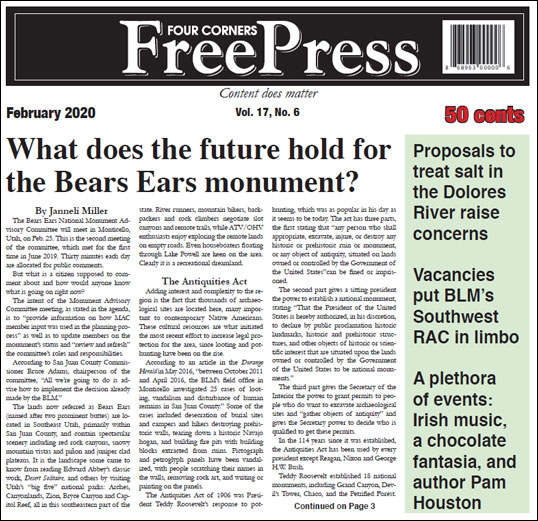 SNEAK PEEK:
A load of salt: Options for treating salinity in the Dolores River raise some concerns
By Gail Binkly
The Bureau of Reclamation has extended the comment period for a draft environmental impact statement regarding continuing treatment of salinity in the Lower Dolores River.
The San Juan Citizens Alliance, an environmental nonprofit based in Durango, is raising concern about the alternatives the BOR is offering, including one alternative that would place a new injection well in a wild and remote site near Bedrock, Colo.
"Needless to say, the impacts to the wild character of the Dolores River would be devastating," the SJCA states on its website.
Comments are now being taken through Feb. 19. The deadline had been Feb. 4.
---
WHAT IS THE FREE PRESS? A monthly publication delivering in-depth news, lively features, and thought-provoking columns on life in the Four Corners.
The Four Corners Free Press is an independent, alternative paper with real substance. Every month, we sink our teeth into meaty topics, providing in-depth, comprehensive news stories on important local and regional issues that affect our readers.
Here's what you can find in the Four Corners Free Press:
Thorough, balanced, in-depth news coverage by award-winning, experienced journalists who are familiar with the community and region.
The liveliest Opinion section in the Four Corners, with a rotating group of columnists writing everything from serious political commentary to humor.
 A perennial readers' favorite: Our Crime Waves section describing local misdeeds. Crime Waves is available only in our print edition.
A Health section with columns and articles on a variety of health and wellness topics.
A comprehensive Arts & Entertainment section to tell our readers what's going on in the Four Corners. We offer feature articles; reviews of books, music and movies; and calendars of cultural events, live music, and other happenings.

Bluff, UT
* K&C Trading Post, 161 E. Main
Cortez, CO
* Books, 124 Pinon
* Burger Boy Drive In, 400 E. Main
* Cliffrose, 27885 Highway 160
* Colorado Welcome Center, 928 E. Main
* Cortez Public Library
* Cortez Recreation Center, 425 Roger Smith Ave.
* Cortez Livestock Auction, 12129 Highway 491
* Cortez Municipal Airport
* El Grande Café, 28 E. Main
* IFA, 10501 Highway 491
* Johnson Building, 925 S. Broadway
* Kokopelli Bike & Board, 30 W. Main
* Once Upon a Sandwich, 1 W. Main
* Pippo's Cafe, 100 W. Main
* Post Office, 35 S. Beech
* Southwest Memorial Hospital
* Shear Shack Salon, 37 E. Main
* Silver Bean, 410 W. Main
* Sinclair Gas Station
* Spruce Tree Coffeehouse, 330 E. Main
* In front of Subway, 1835 E. Main
* The Farm Bistro, 18 E. Main
Dolores, CO
* Dolores Food Market, 400 Railroad Ave.
* Dolores River Brewery, 100 South 4th
* Ponderosa Restaurant, 108 South 8th
Dove Creek, CO
* Dove Creek Superette, 445 Hwy. 491
Durango, CO
* Bread, 42 County Road 250
* Magpie Newsstand Cafe, 707 Main Ave.
* In front of El Rancho, 900 Block Main Ave.
* In front of Francisco's, 619 Main Ave.
* In front of Steamworks, 801 E. 2nd Ave.
Farmington, NM
* San Juan Regional Medical Center
Mancos, CO
* Absolute Bakery, 110 S. Main
* Fahrenheit Roasters, 201 W. Grand
* P&D Grocery, 280 E. Frontage Road
Blanding, Utah
*San Juan Pharmacy
*Four Corners Inn
Shiprock, NM
* Northern Navajo Medical Center
---
All contents copyrighted. No reprints of articles or photographs without permission.