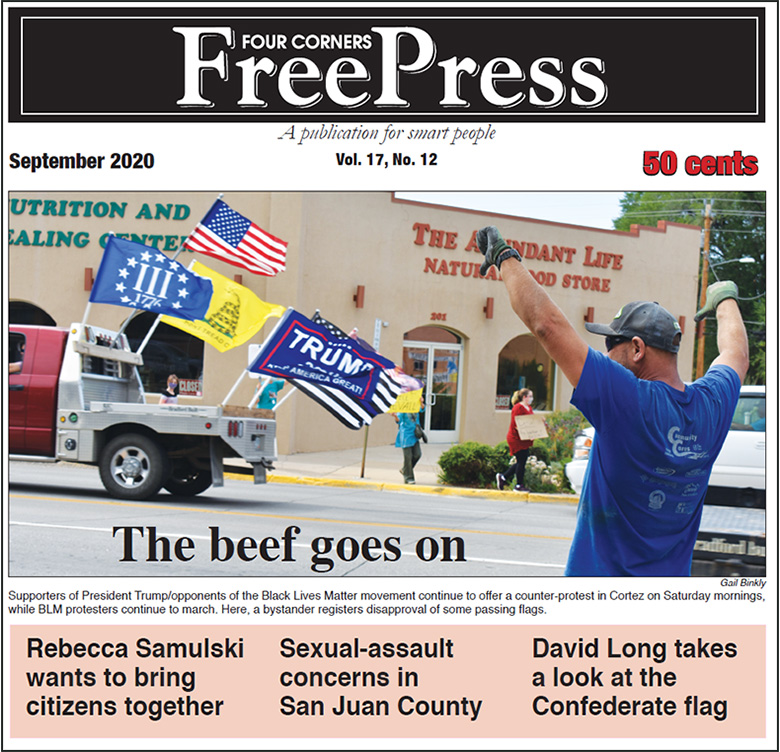 Sneak Peek
By David Grant Long
Probably the most effective way of making it crystal clear in most people's minds that you are a white supremacist is by flying a Confederate flag – the bigger the better – in your front yard or on your vehicle.
This view hardened into a concrete belief while I was watching a parade of gaily befurled vehicles travel up and down Main Street in Cortez one recent Saturday morning. A couple dozen huge pickup trucks, along with two- and three-wheeled Hogs and a few classic roadsters, roared through the heart of town, engines redlining and spewing smoke while the occupants fist-pumped and yelled imprecations that were mostly unintelligible over the racket.
From what I'd seen on social media, their intent was to show support for our police and first responders and so on, but their decked-out rides displayed mostly Old Glorys along with a scattering of "Don't Tread On Me" and even a few – and here's the real raw rub – Confederate flags, whose connection with police and first responders is tenuous, to say the least. (There was even one hybrid – half American/half Confederate – which struck me as strange indeed, sort of like standing with one foot in the U.S. and the other in . . . pre-Mandela South Africa, maybe.)
Finding my place amid a global pandemic
Suzanne Strazza
Sitting at the kitchen window, heavy March snow falling, my eyes fix on an invisible spot on the southwestern skyline. These vistas are expansive; horizons form straight lines interrupted only intermittently by mountain peaks shooting skyward from flat sage plains. My eye searches the horizon south of the Abajo Mountains, the Blues, as the Mormon settlers called them. There is a river canyon out there cutting through expanses of stone in the most barren and remote of landscapes – a river, in a desert, where my heart lives.
I welcome the precipitation, I pray "Please. Heal us."
Television and commercials
Doug Karhan
Glad to be back. I took a month off because of the flu. Being an old fossil, it was rough and the recovery long. I even had gotten a flu shot back in October. Guess I got a different kind. If I get the Coronavirus, it will doubtless be the end of me.
Valar morghulis.
While laying around not doing much, I watched a lot of TV.
As a staunch supporter of the First Amendment, I was surprised at myself for wishing certain commercials should be banned. I guess I'll just have to grin and bear it and use my mute button.
WHAT IS THE FREE PRESS?
A monthly publication delivering in-depth news, lively features, and thought-provoking columns on life in the Four Corners.
The Four Corners Free Press is an independent, alternative paper with real substance. Every month, we sink our teeth into meaty topics, providing in-depth, comprehensive news stories on important local and regional issues that affect our readers.
Here's what you can find in the Four Corners Free Press:
Thorough, balanced, in-depth news coverage by award-winning, experienced journalists who are familiar with the community and region.
The liveliest Opinion section in the Four Corners, with a rotating group of columnists writing everything from serious political commentary to humor.
 A perennial readers' favorite: Our Crime Waves section describing local misdeeds. Crime Waves is available only in our print edition.
A Health section with columns and articles on a variety of health and wellness topics.
A comprehensive Arts & Entertainment section to tell our readers what's going on in the Four Corners. We offer feature articles; reviews of books, music and movies; and calendars of cultural events, live music, and other happenings.
FOUR CORNERS FREE PRESS DISTRIBUTION LOCATIONS
Bluff, UT
* K&C Trading Post, 161 E. Main
Cortez, CO
* Books, 124 Pinon
* Burger Boy Drive In, 400 E. Main
* Cliffrose, 27885 Highway 160
* Colorado Welcome Center, 928 E. Main
* Cortez Public Library
* Cortez Recreation Center, 425 Roger Smith Ave.
* Cortez Livestock Auction, 12129 Highway 491
* Cortez Municipal Airport
* El Grande Café, 28 E. Main
* IFA, 10501 Highway 491
* Johnson Building, 925 S. Broadway
* Kokopelli Bike & Board, 30 W. Main
* Once Upon a Sandwich, 1 W. Main
* Pippo's Cafe, 100 W. Main
* Post Office, 35 S. Beech
* Southwest Memorial Hospital
* Shear Shack Salon, 37 E. Main
* Silver Bean, 410 W. Main
* Sinclair Gas Station
* Spruce Tree Coffeehouse, 330 E. Main
* In front of Subway, 1835 E. Main
* The Farm Bistro, 18 E. Main
Dolores, CO
* Dolores Food Market, 400 Railroad Ave.
* Dolores River Brewery, 100 South 4th
* Ponderosa Restaurant, 108 South 8th
Dove Creek, CO
* Dove Creek Superette, 445 Hwy. 491
Durango, CO
* Bread, 42 County Road 250
* Magpie Newsstand Cafe, 707 Main Ave.
* In front of El Rancho, 900 Block Main Ave.
* In front of Francisco's, 619 Main Ave.
* In front of Steamworks, 801 E. 2nd Ave.
Farmington, NM
* San Juan Regional Medical Center
Mancos, CO
* Absolute Bakery, 110 S. Main
* Fahrenheit Roasters, 201 W. Grand
* P&D Grocery, 280 E. Frontage Road
Blanding, Utah
*San Juan Pharmacy
*Four Corners Inn
Shiprock, NM
* Northern Navajo Medical Center