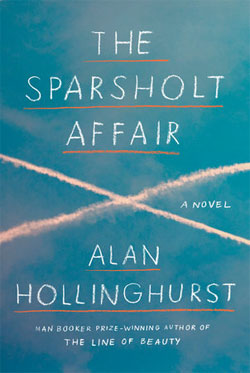 "The evening when we first heard Sparsholt's name seems the best place to start this little memoir." That deceptively modest declaration begins The Sparsholt Affair, a novel of staggering depth and beauty from an author – Alan Hollinghurst – whom the The New Yorker's Alexandra Schwartz describes as "not simply one of the best living English novelists but one of the best novelists working in English."
If you're not familiar with Hollinghurst's work – and I'm chagrined to say that I wasn't – it's perhaps the result of its unique focus, although he has won the Man Booker Prize, in 2004, for his fourth novel The Line of Beauty, as well as the Somerset Maugham Award, the E. M. Forster Award of the American Academy of Arts and Letters, and the James Tait Black Memorial Prize for Fiction.
About that focus. All six of Hollinghurst's novels explore, to one extent or another, gay life and culture in his native England, often from a multi-generational perspective. In keeping with its forebears, The Sparsholt Affair opens at Oxford in 1940, where memoirist Freddie Green's circle of mostly gay friends – the writer Evert Dax among them – are smitten by David Sparsholt, a freshman Adonis marking time on campus until his eighteenth birthday, when he can finally join the Royal Air Force. Dax in particular, besotted to the point of obsession, is determined to seduce the new man and, despite Sparsholt's recent engagement to his girlfriend Connie, succeeds in doing so, concluding the first of the novel's five separate sections.
Fast forward to the 1960s, where the narrative shifts from the first to the third person and centers on David and Connie's teenaged son Johnny Sparsholt, also gay, as he navigates the terra incognita of his own sexuality. David, late a war hero, is now a successful industrialist, and it's through Johnny's distracted eyes that we catch a fleeting glimpse of his father's furtive dealings with Clifford Haxby, a neighbor, and Leslie Stevens, a Tory Member of Parliament.
In the novel's third section the action moves to London, where Johnny, an aspiring portrait artist, crosses paths with the much older Dax, now a prominent art collector whose Cranley Gardens mansion is host to all nature of comings and goings in the still-clandestine gay subculture of the early 1970s. The Sparsholt name, we learn, has become infamous thanks to a vaguely-referenced but very public sex scandal – the titular "Sparsholt Affair" – that has rendered David (and Haxby and Stevens) national pariahs, and which 21-year-old Johnny now must wear as a kind of scarlet letter.
The 1990s find Johnny out and happily partnered with Patrick.  He is now both a successful artist and, improbably, the father of Lucy, whose lesbian mother Francesca is a wealthy daughter of the old Cranley Gardens set. Here Hollinghurst deftly illustrates the evolving but, at many levels, still hidebound social strata through which young Lucy – with her two mothers and her six grandparents – glides easily while the aged but still-infamous David Sparsholt, seen during a rare visit to London, is fated forever to struggle.
The novel's final section – the culmination, if you will, of eight decades of British gay history – takes place in the present. Johnny is widowed now, and Lucy about to be married. Dipping his toes in the strange waters of contemporary gay life, Johnny, coaxed by a well-meaning friend, finds himself high on Ecstasy, sweatily gyrating in a London discotheque when he learns of his father's death.
Even for those with no particular interest in its subject matter, The Sparsholt Affair ($28.95, from Knopf) will astound with its evocative language and its penetrating insights into the human condition. Consider this passage, in which Lucy accompanies Johnny back to Cranley Gardens to help the aged Dax dispose of his art collection:
"There was a tall window on each turn of the stair, throwing dirty light across the carpet, which was worn through to the floorboards in places. As they climbed they passed large dim oblongs, huge hooks, black drapery of cobwebs where pictures must have hung for a very long time. When they reached the landing they saw them stacked against the wall in their heavy gilt frames, trying to stay dignified while peering nervously over each other's shoulders. The pictures left hanging, perhaps not worth selling, looked hopeless without them."
If you value elegant writing, compelling characters, and incisive social commentary, then by all means, add Alan Hollinghurst to your short list of must-read authors.
Chuck Greaves is a member of the National Book Critics Circle and the author of five novels, most recently Tom & Lucky (Bloomsbury). You can visit him at www.chuckgreaves.com.