By rights, it shouldn't work. But it does.
Beloved mystery author Tony Hillerman's bestselling series, which featured Navajo Nation cops Joe Leaphorn and Jim Chee, ended with Hillerman's death in 2008.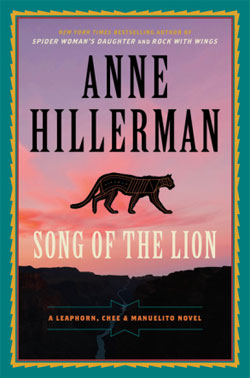 Or so his devoted readers thought. There were plenty of groans from Hillerman fans when word came in 2013 that Tony's daughter Anne, a first-time novelist, was resurrecting her father's series. But there were plenty of cheers, too. Turns out the cheering fans were right.
The first two installments in Anne Hillerman's resumption of the series, 2013's Spider Woman's Daughter and 2015's Rock with Wings, deftly picked up where the Leaphorn-Chee series left off. Anne's third installment, the justreleased Song of the Lion, is her best yet.
Anne has made the Leaphorn-Chee series her own by giving a star turn to detective Bernadette Manuelito, Chee's wife and a minor character in Tony's mysteries. In addition (spoiler alert if you haven't read Spider Woman's Daughter), Anne has sent the legendary Leaphorn, Tony's alter ego, into retirement. In Anne's mysteries, Leaphorn plays an emeritus role as he continues his recovery from a devastating gunshot wound suffered in Daughter. He fits well in the role of senior advisor in Song of the Lion, while Manuelito and Chee get all the action.
Like a number of Tony's plots, Anne's story line is based on a real-life event roiling the Navajo Reservation. The proposed Grand Canyon Escalade would carry up to 10,000 tourists a day, by tram, from a canyonrim hotel on Navajo land just outside Grand Canyon National Park to the confluence of the Colorado and Little Colorado rivers, a place considered sacred to Navajo, Hopi, and Zuni tribespeople.
Song of the Lion begins with a literal bang — a car bomb explodes, with deadly results, in the Shiprock (N.M.) High School parking lot. It appears the bomb's intended victim was Aza Palmer, a professional mediator in the dispute over the proposed, Escalade-like development at the center of the plot.
The story moves into Arizona, where Manuelito and Chee learn Palmer's personal background may have had as much to do with the car-bombing as his role in the development dispute. With the help of Chee, assigned the unenviable task of guarding Palmer, and Leaphorn, whose memories of a long-ago case prove integral to solving the present-day bombing, Manuelito must call upon all her skills — intellectual, physical, and psychological — to stop a heartless killer intent on killing again.
Like her father before her, Anne Hillerman transports readers to beautiful, remote parts of the reservation, offering glimpses inside Navajo homes and insight into tribal mainstays like sheepherding and rug weaving. In
Song of the Lion, she mixes tribal lore and spirituality into a thick stew of a story that is sure to please old Leaphorn-Chee readers and newcomers to the Leaphorn- Chee-Manuelito series alike.
Scott Graham is the National Outdoor Book Award-winning author of the National Park Mystery Series for Torrey House Press. The third book in the series, Yellowstone Standoff, was released in June. Visit Graham at scottfranklingraham.com.