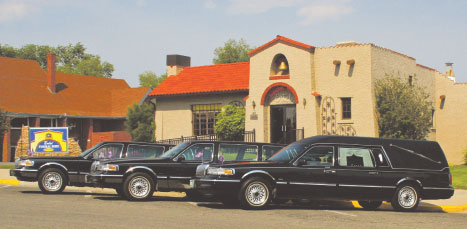 Ertel Funeral Home in Cortez, Colo., is celebrating its 100th anniversary of service to Montezuma and Dolores Counties, as well as the Ute Mountain Ute and Navajo tribes, with an event on Saturday, Nov. 6.
Ertel Funeral Home is still owned and op­erated by the founding family. Kinsey Ertel, the fourth generation of the Ertel family, has led the business since spring of 2016, taking over from her father, Keenan Ertel, as he did in 1993 from his father, Walter Ertel. Her great-grandfa­ther, J.W. Er­tel, founded the business in 1921 and head­ed the business until 1956.
"There's an immense amount of pride and hon­or that comes with carrying on our family's legacy," said Kinsey Ertel in a release. "My family and our community have a shared history, and we are excited to note and celebrate that relation­ship."
J.W. Ertel homesteaded land in Ackmen in the Pleasant View area in 1916 and bought the mortuary in Cortez in 1921. In 1936, the present building was finished and dedicated, lauded by the Cortez Sentinel as "the finest mortuary on the whole western slope of Colorado."
For several decades after the construction of the Ertel Funeral Home, it was one of the few places in town with enough space and appropriate decor to lend itself to for­mal gatherings. Many new churches in the area without facilities used the chapel for their services until they settled in a perma­nent location. The chapel was often used for wedding and anniversary parties, as well as community meetings.
Honored by enrollment on the National Register of Historic Places in 1995, the building façade of Spanish-style stucco re­mains unchanged and original, and in the in­terior, only minor interior renovations have been needed throughout the years.
"The building is still basically as func­tional today as it was when it was built," said Keenan Ertel, who marked Ertel Funeral Home's 50th anniversary in 1986. "The architect really knew what he was doing back then in the '30s."
The 100th anniversary celebration at the Market Street location will feature historical pieces from the business's long history, including pic­tures, blueprints, clippings and other memo­rabilia. There will be refreshments and cake served and the evening will be capped by fireworks.
Ertel Funeral Home will be celebrat­ing "One Hundred Years of Service to our Community" from 1 to 7 p.m. Saturday, Nov. 6, at 42 N. Market St. in Cortez, with fireworks starting at 7 p.m.
"The whole community is invited to cel­ebrate with us," Kinsey said. "From early on, the Ertel family believed in the future and growth of this area, and we are proud to be serving here still."