Residents of the Four Corners region generally understand the debt they owe the Utes, Navajos, Apaches and other Native Americans who inhabited the area before them.
David Grann's latest nonfiction bestseller, Killers of the Flower Moon: The Osage Murders and the Birth of the FBI, provides Four Corners residents the opportunity to even better appreciate the magnitude of that debt.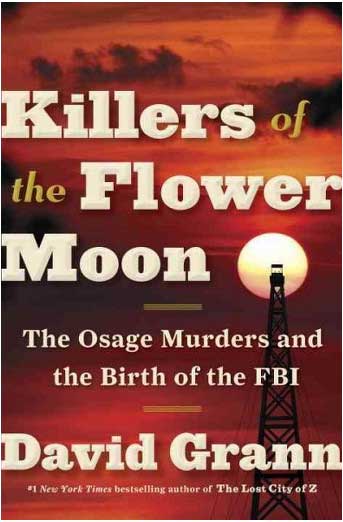 Already a national bestseller in the few weeks since its release, Killers of the Flower Moon chronicles the all-but-forgotten period in the 1920s in Oklahoma known as the Osage Reign of Terror.
A century ago, oil was discovered beneath the lands of the Osage Indian nation in far northeast Oklahoma. Almost overnight, members of the Osage tribe became, by some measures, the richest people on Earth.
For a few years, tribal members enjoyed their unexpected, newfound wealth. They bought fancy cars, built fine homes, and hired maids, butlers, and chauffeurs. One Osage Indian even owned a Kentucky Derby-winning thoroughbred.
It didn't take long, however, for the Osage to go from privileged to prey.
As the 1920s dawned, tribal members began to die in all manner of mysterious and not so mysterious ways. They succumbed to unexplained illnesses and suicides (later ascribed to various poisons). They plunged to their deaths in odd automobile accidents. Their homes were bombed. They were shot. Stabbed. Bludgeoned beyond physical recognition.
As the number of mysterious deaths and outright murders climbed, the deceased Osage Indians' oil wealth accumulated increasingly in the hands of local non-Indians acting as court-appointed "guardians" of the Osage Indians' financial affairs.
Honest white residents of the region and private detectives from outside the area began to investigate. But they, too, wound up dead.
It took the intervention of J. Edgar Hoover and the newly founded Federal Bureau of Investigation to bring about what was thought to be an end to the killings. In fact, however, as Grann discovered through years of intensive research, even then the reign of terror wasn't over.
Grann's riveting account of the atrocities visited upon the Osage Indians reads like a fictional whodunit. It is the brutal truth Grann lays out in his darkly compelling book, however, that makes Killers of the Flower Moon a must-read for all Four Corners residents who appreciate the former Native American lands they now call home.
Scott Graham is the National Outdoor Book Award-winning author of the National Park Mystery Series for Torrey House Press. The third book in the series, Yellowstone Standoff, was released last year. Visit Graham at scottfranklingraham.com.