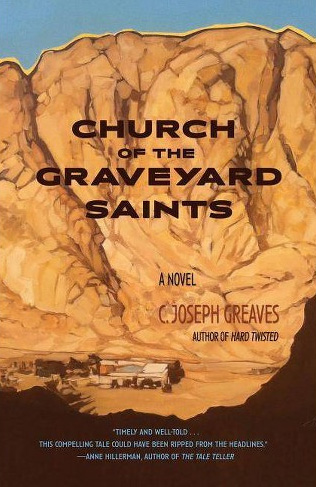 It's a pleasure to report that after earning national acclaim for his five earlier novels, local author and my fellow Prose & Cons columnist C. Joseph Greaves has turned his attention to his Southwest Colorado backyard with his latest work of fiction.
In Church of the Graveyard Saints, Greaves has woven a tale of multigenerational love and conflict set against the ongoing battle to preserve the peerless landscape of the American West. Set where he lives, in red-rock-rimmed McElmo Canyon near Cortez, Greaves' new novel will resonate with all those who love and live in the Four Corners region.
Church of the Graveyard Saints is published by Salt Lake City-based conservation-literature publisher Torrey House Press. Greaves will launch the book with a reading and signing at Maria's Bookshop in Durango on Tuesday, Sept. 10, at 6:30 p.m.
In the Q&A that follows, Greaves talks about the genesis of Church of the Graveyard Saints, as well as the novel's locally sourced characters and the book's personal connection to Greaves' life in the Four Corners.
Q: After writing award-winning mystery and historical fiction, what motivated you to take on a commercial/ literary novel like Church of the Graveyard Saints?
Like many new novelists, I started out writing what felt natural to me, which was first-person, plot-driven fiction. But I never wanted or intended to limit myself to being just a category author. For example, my second novel, Hard Twisted, is a third-person account of true events written from the standpoint of a 13-year-old-girl adrift in the Depressionera Southwest. My last, Tom & Lucky, set in New York between the World Wars, employed four alternating viewpoints and mixed both first- and third-person prose. So yes, I'm always looking to stretch my legs as an author. That's also why, to differentiate the two, my mystery novels are by Chuck Greaves while the others, including this latest, are by C. Joseph Greaves.
I recall a conversation I had in 2012 with Jonathan Evison, a dear writer friend, in which we discussed how one best propels a purely character-driven novel. He maintained that the difference between what a person has and what that person wants, along with the obstacles to its attainment, are enough to drive a book forward. I suppose I'm putting that advice to the test with Church of the Graveyard Saints.
Q: Addie Decker, the primary protagonist, is one of the more engaging characters we've met in recent fiction, let alone in Western fiction. Who is she, and where did she come from?
Several years ago, I read about Attachment Theory — the idea that your earliest maternal interactions can both determine and predict your later-life relationships. As an erstwhile psychology major, I found this fascinating, and I wondered, okay, but what if you never knew your mother? What if your only account of that relationship comes from your less-than-reliable father? And if you believe in Attachment Theory, might circumstances like those make you distrust your own ability to have a healthy adult relationship?
So that's where Addie began — as an otherwise smart, strong, and resilient young woman who's been raised by a difficult father and as a consequence is somewhat unmoored when it comes to her personal life.
Then the next question was: How do you integrate that aspect of her personality with a story about returning to your roots? The answer for me was to have Addie arrive in Cortez, her old hometown, with her new (and older, more sophisticated) boyfriend in tow and then have to deal with her high-school sweetheart, a likable lunk who's newly divorced. The resulting frisson, while not the main thrust of the novel, provides another propulsive element.
Q: Addie isn't the novel's only compelling personality. Describe the challenge of writing such widely disparate characters as a university professor and a 20-something oilfield roughneck and an octogenarian cattle rancher.
The four viewpoint characters in this novel — Addie Decker, her father Logan, her boyfriend/professor Bradley, and her old flame Colt — could not be more different in terms of their educations and experiences and world views, which is wonderful grist for the mill because an important aspect of writing from multiple viewpoints is the language at your disposal. For a character like Bradley, certain urbanity is demanded, whereas Logan Decker might employ a more colloquial manner of thinking and speaking. Not that Logan is any less thoughtful or astute than Bradley — far from it. It's just that in order to be credible, each character must think and act and speak in a way that's consistent with his particular background.
Add to that the novel's dozen or more supporting characters — a small-town lawyer, Addie's irascible grandfather, a gung-ho deputy sheriff — and you wind up with a chorus of different voices that, if I've done my job well, should harmonize and lift to the rafters without hitting any false notes. Again, it's what a character has, and what that character wants.
Q: Although you've described this novel as a love letter to the rural community in which it's set, and where you live, it might seem to a reader like tough love at times. Why is that?
The Four Corners region has fascinated me, and attracted me, since I first saw it in 1993. It is one of our nation's most beautiful and, paradoxically, least populated places. For over a century, unfortunately, it's been treated as a national energy sacrifice zone in which various extractive industries — whether uranium, coal, oil, carbon dioxide, or natural gas — have enjoyed free rein alongside family ranching and farming operations, many multi-generational. Before that, of course, it was home to the Ancestral Puebloan people whose ruins, rock art, and artifacts still adorn the landscape. As more and more Americans — retirees, tourists, outdoor enthusiasts — have discovered the area, certain tensions have arisen, most notably between those who favor aggressive economic development and those who would prioritize environmental and archeological conservation.
In Church of the Graveyard Saints, I try to give voice to all sides of the debate, although it's probably clear where my own sympathies lie. More importantly, I try to illustrate the whipsaw forces at play in a place like the Four Corners at a time when drought and market consolidation and diminishing economic opportunity might force a fifth-generation ranching family — a family whose love of the land is no less sincere than that of the most ardent environmentalist — to view extractive industry as its only hope for survival. Yes, that's a sad state of affairs, but all too often in today's New West, that's the hard truth on the ground.
Q: Would you characterize Church of the Graveyard Saints as regional literature, or do you think it has broader national appeal?
First of all, what's "regional literature" anyway? Isn't To Kill a Mockingbird a regional novel? Isn't Pat Conroy a regional author? Or Jesmyn Ward? All books are set somewhere, and it's almost as though if the setting isn't New York or L.A. or someplace overseas, then it's regional and somehow lacks universality. Until it doesn't.
One torment visited upon authors by their publishers is naming comparable titles that the publisher's publicity department can then use to market the book. My first, purely instinctive response to Torrey House Press was Larry McMurtry's The Last Picture Show, given both books' small-town settings. But the real questions are: What's the book about? What does it say? How are its characters different people at the story's conclusion than they were at the beginning? What forces account for those changes? What lessons were learned along the way?
When viewed through those lenses, Church of the Graveyard Saints is sui generis. And yes, its themes are universal. Or at least I hope they are.
Scott Graham is the National Outdoor Book Award-winning author of the National Park Mystery series for Torrey House Press. The fifth book in the series, Arches Enemy, was released in June, and is available at bookstores and online at indiebound.org. Graham can be reached at scottfranklingraham.com.