Augustus Rose may have invented a new genre with his debut novel, The Readymade Thief, released Aug. 1 by Viking Press.
Let's call Rose's creation a Young Adult novel for adults; rather than a YA novel, Rose has written a YAA novel. In The Readymade Thief, Rose adopts many of the norms of a novel aimed at teenage readers to tell a thought-provoking coming-of-age tale layered with adult themes.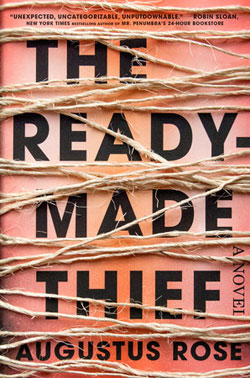 Like the protagonists in many YA stories, the heroine of The Readymade Thief is young, whip-smart, abandoned by family, and blackballed by society. It turns out — and nearly goes without saying — that 17-year-old Lee also has been pre-selected by mysterious forces for bigger things than she ever could have imagined for herself.
Though addicted to shoplifting, Lee at the outset of the story is in all other ways an average, middle-class product of suburban Philadelphia poised to graduate from high school, go off to college, and live an unremarkable post-collegiate life. Then, in short order, Lee's best friend frames her for a drug deal gone bad, her mother shuns her in favor of a controlling boyfriend, and she is sentenced to a year and a half in juvenile detention.
Within weeks, Lee escapes incarceration and finds herself homeless and on the lam, whereupon she meets and is befriended by an array of quirky characters surviving on the margins of Philadelphia society. Among them are the Station Master, an informal foster parent to homeless youth who may be absconding with the souls of the young people he aids, leaving them brain-dead and wandering the streets with glowing, gel-filled eyes.
Ever resourceful and unfailingly resilient, Lee slips the Station Master's clutches and falls in with Tomi, a member of a Philadelphia subculture devoted to creeping — exploring abandoned tunnels, structures and buildings throughout the city in the dark of night. The adult themes of The Readymade Thief arise when Lee becomes pregnant by Tomi, leading her to struggle with whether to end her pregnancy. At the same time, she and Tomi are stalked by the Station Master and his henchmen for perplexing reasons having to do with French artist Marcel Duchamp, into whose avant-garde works author Rose delves in great detail.
Aided by several too many coincidences — another YA staple — the plot of The Readymade Thief hums along, with Lee and Tomi using their respective skills in thievery and creeping to remain a step ahead of their pursuers. As they work to unravel the Duchamp-related riddle and save Philly's unwitting teens from the Station Master, Lee and Tomi race from one to another of several unlikely yet fully realized locales, including a former intercontinental ballistic missile silo refashioned by the Station Master as youth-party central, an abandoned aquarium on a deserted island in the Delaware River turned amateur art space, and a subbasement hideaway beneath the Philadelphia Museum of Art where, author Rose posits, Duchamp secretly sequestered himself for decades while fashioning his biggest and best-ever work of art—one that, decades after the artist's death, may yet have the potential to alter the very fabric of the universe.
Over the course of The Readymade Thief, Lee confronts love, loss, heartbreak and, ultimately, redemption. Readers who don't poke too hard at the unlikeliness of the novel's plot will enjoy following along with Lee as she solves the puzzle presented by Duchamp's work, and, in the process, matures into a fully capable young woman ready to make her own way in the world.
Scott Graham is the National Outdoor Book Award-winning author of the National Park Mystery Series for Torrey House Press. The fourth book in the series, Yosemite Fall, will be released in June 2018. Visit Graham at scottfranklingraham.com.