The year is 1870, and across the State of Texas, Capt. Jefferson Kyle Kidd travels from town to town performing live readings from newspapers to paying audiences eager to learn the news of the world. Seventy-two and widowed, a veteran of two brutal wars, the learned Captain has "a clean-shaven face with runic angles, his hair was perfectly white, and he was still six feet tall . . . He carried a short-barreled Slocum revolver in his waistband at the back. It was a five-shot, .32 caliber and he had never liked it all that much but then he had rarely used it."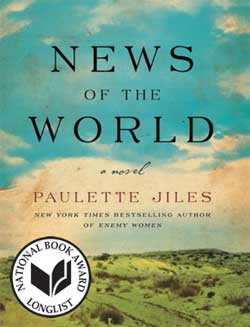 That is about to change. One night in Wichita Falls the Captain is asked to perform a final act of public service when Indian agents, having redeemed a young captive from the Kiowa, seek a man they can trust to deliver the girl safely to her surviving relatives near San Antonio, some 400 rugged miles due south through a frontier plagued by rogue soldiers and highwaymen and hostile Comanche.
The orphaned girl, four years a captive, is Kiowa in language and in custom and in all respects but parentage. "She seemed to be about ten years old, dressed in the horse Indians' manner in a deerskin shift with four rows of elk teeth sewn across the front . . . Her hair was the color of maple sugar and in it she wore two down puffs bound onto a lock of her hair by their minute spines and also bound with a thin thread was a wing-feather from a golden eagle slanting between them. She sat perfectly composed, wearing the feather and a necklace of glass beads as if they were costly adornments. Her eyes were blue and her skin was that odd bright color that occurs when fair skin has been burned and weathered by the sun. She had no more expression than an egg."
Reluctantly accepting the commission, the Captain and the girl he names Johanna begin an odyssey of adventure and mutual self-discovery beautifully chronicled by Paulette Jiles in her fifth novel News of the World. Meticulously researched and flawlessly executed, it is a jewel-box of a story that might remind readers of Charles Portis' True Grit in its concise storytelling and engaging dialogue, except that Jiles also brings to the project a poet's eye for detail and a memoirist's insight into the cultural gulf her protagonists must bridge in order to arrive at the trust and understanding on which their survival will depend.
"Maybe life is just carrying news," the Captain muses after a particularly harrowing escape. "Surviving to carry the news. Maybe we have just one message, and it is delivered to us when we are born and we are never sure what it says; it may have nothing to do with us personally but it must be carried by hand through a life, all the way, and at the end handed over, sealed."
At the end of this particular journey, the Captain faces a dilemma: Whether to honor his pledge to deliver the girl or whether to act in a way he deems in her best interest. That dilemma, its resolution, and the moral complexities that underpin both are what make News of the World ($22.99, from William Morrow) more than just an adventure novel, or a buddy story, or a scrupulously-researched work of historical fiction (although it is all of those), and help account for its deserving nomination as a 2016 National Book Award finalist.
Chuck Greaves is a member of the National Book Critics Circle and the author of five novels, most recently Tom & Lucky (Bloomsbury.) You can visit him at www.chuckgreaves.com.