The Four Corners area remains a popular destination for out-of-state travelers, even as COVID-19 continues to infect more and more people. At the end of June the daily number of new cases was on the rise in 29 states, many in the West, particularly Arizona.
Some states, most recently New York and New Jersey, were implementing new regulations requiring visitors from states with high levels of the virus to quarantine.
New COVID-19 cases in Colorado had been decreasing until the last week of June, when the numbers began to rise again.
In Montezuma County, cases were increasing more than they did during the entire pandemic, at a rate of 1 or 2 new cases every day or two. At press time, there were 72 cases reported, 12 of them active, according to the county health department's website.
Could the increase in local cases be due to visitors? The San Juan Basin Public Health Department reported on June 19 that in the previous three weeks, six people visiting Southwest Colorado from Arizona, New Mexico and the Front Range had tested positive for the virus. Yet these cases are not attributed to local counties – the case data is added to the place of residence of those testing positive. Thus, while local numbers remain low, there may be more cases circulating among those visiting the region.
The virus doesn't seem to have put a damper on the numbers of people coming into the local area. Instead, it could be adding to visitation. Colorado's great outdoors is generally the perfect place to maintain physical distancing. However, public lands are getting busier and it might be difficult to stay away from others.
Locals have noticed an increase in people using public lands. One resident of Dolores who went up to Boggy Draw north of Dolores over Mother's Day weekend in mid- May told the Four Corners Free Press, "There were a thousand or more people up there, if I had to guess. Each camp had six or seven vehicles. Schoolhouse Tank [a pond in the Boggy Draw area] was completely surrounded."
Tom Rice, recreational staff officer for the Dolores Ranger District, said he has seen an increase in visitors.
"Everything is busier," he said. "Our numbers have increased dramatically on Forest Service lands this year. It's not just Boggy Draw, it's the lake [McPhee], and the dispersed areas also. We have over twice as much use of the reservoir this year compared to last. Even the wilderness areas are busy."
The national forest allows for "dispersed camping," meaning it is acceptable to camp outside of campgrounds on public lands for up to two weeks in one place. Camps have to be located 300 feet from a road.
Dispersed camping was discouraged by the Rocky Mountain Regional Division of the Forest Service in early April, but the message apparently did not reach the public visiting Southwest Colorado. With campgrounds in the San Juan National Forest closed through May 28, dispersed camping increased. Yet even when campgrounds reopened and filled up, people were still utilizing dispersed camping spots.
Susan Lisak, director of the Dolores Chamber of Commerce, told the Free Press she has seen an uptick in the number of visitors. "At first – in April and May – people coming into the Dolores Visitor Center wanted to know about bike trails and dispersed camping opportunities, and now it's the RVers," she explained.
No longer staying home
Outdoor recreation is considered healthy and safe in these pandemic times, and many people are taking advantage of their time off work or work-at-home situations to explore Southwest Colorado. Outdoor recreation can decrease stress, boost immunity and help maintain health.
Rice said it's hard to tell if the increase is primarily because of the virus, but it makes sense that that is a factor. "This is Colorado, and people want to get out after they have been cooped up. They're ready to get out when the gates are open," he said.
"The closure of San Juan County, Colorado, and San Juan County, Utah, along with an early snowmelt in the high country focused a lot of use into Southwest Colorado," Rice explained. (Those counties for a time were not allowing outsiders in for recreation.)
Lisak said that at first, visitors were from areas within a four-hour drive, such as Grand Junction. "Now I'd say in the last few weeks we are seeing more people from Denver, Albuquerque and other parts of Arizona. We're starting to see a little bit more of travel from outside of the area."
Rice corroborated this. "We have more campers, more side-by-sides, and more visitors from adjacent states – Utah, New Mexico and Arizona."
It just so happens that these "other areas" are places where cases of COVID-19 are on the rise.
Utah cases have been sharply increasing, with San Juan County having one of the highest rates in the state.
Colorado implemented a stay-at-home order March 26, shifting on April 26 to "safer at home," and to "protect your neighbors" on July 1.
Utah's "Stay at home, stay safe" order began on March 26, and currently the state has implemented a countyby- county color-coded risk level. San Juan County is in the low-risk, "yellow" zone, even though it has one of the highest case rates in the state.
Arizona has been making national headlines due to its skyrocketing rise in coronavirus cases after stay-at-home orders were lifted on May 15. The Navajo Nation saw an early surge in coronavirus cases, and implemented stricter measures than the rest of the state, yet Navajo and Apache counties, closest to Colorado, have recorded more deaths due to COVID-19 than anywhere else in the state.
In New Mexico, the stay-at-home order was lifted on May 31, and COVID-19 cases are rising.
Colorado has not mandated quarantines for visitors, although the state recommends that anyone from out of state who shows symptoms of the virus should self-isolate, stay inside their lodging, and seek medical advice by calling before venturing out. Other recommendations are to avoid public areas or public transportation (including taxis) and stay away from others.
RVs are a popular option for travel during the pandemic, since they allow people to "isolate" within their RV instead of occupying hotels. Lisak said she conducted a survey of local RV parks, saying that "every single one said it's the best May they've ever had. The fellow who manages The Views told me he's got people who are working from the campground. Either they got laid off or are doing it remotely. They spend some time working from their camper and then the rest of the time they are outdoors recreating."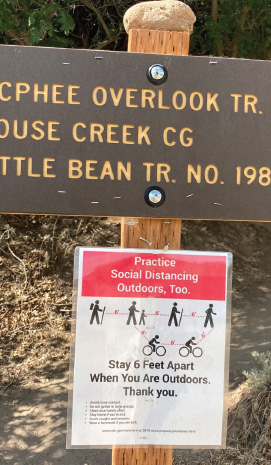 Rice agreed that he's seeing more RVs in the Boggy Draw area, and said the Forest Service has tried to accommodate the increase in visitation. "We have increased camping all along the main Boggy Draw road within half a mile of the trailhead. We've added spur roads to try to centralize the impacts so they're not all over the forest." He said this helps keep people from making their own "two-tracks" out into the forest. "When we start to see small two-tracks going into sites, it does change the character of the forest."
Another possible reason for more visitors at Boggy Draw is the fact the Southwest Colorado Cycling Association (SWCCA) has built more biking trails.
"Between the existing and expansion of trails both on BLM and Forest Service system trails, our area is getting more popular," Rice said. "Our trails are very nice – they are family-friendly and also cater to people looking for longer, more challenging rides. By building more trail, we are billing ourselves as a destination spot."
Phil Ayers, vice president of the SWCCA, agreed. He rides the Boggy Draw trails often, and noted that "a lot more people are camping this year, including in places where they didn't used to camp before. I'd be riding along and see a camp and think, 'I didn't they know they could get in there'."
In June 2012, Outside magazine published an article by Telluride writer Emily Shoff that called Boggy Draw the "Ultimate Mountain Biking Base Camp for the Whole Family," and a "biking mecca."
Ayers told the Free Press he'd heard that Boggy Draw was featured in Outside, but it's hard to say if the eight-year-old piece still holds sway.
Ayers mentioned that Boggy Draw is one of the first places to dry out in the spring after Phil's World east of Cortez and that "there's usually a surge of people from Telluride in the spring – Durango and Telluride riders come over to ride."
He said that this year, however, "there's definitely more people than I've ever seen. The trailhead is crowded."
Lisak was up at Boggy Draw the third weekend in June. "I noticed that there are a lot of people camping up there and Boggy Draw was packed with bikers – there were maybe 30 people in the parking lot waiting to go. The most I've seen there."
A Dolores resident told the Free Press that he knew people who are now going out to McPhee and County Road X to ride the trails at Sage Hen because Boggy Draw was full. They were looking for places to ride where they could social-distance, which was becoming difficult at Boggy.
Rice agreed that the Boggy Draw parking lot is full. "Our parking lot is built to accommodate an average flow," he said. "Holiday weekends are traditionally busy – people need to expect that. Any holiday weekend you can expect crowds, that's just the territory. Especially since our numbers have increased dramatically on Forest Service lands this year."
In addition to a crowded parking lot and more camping, Ayers said he has noticed the impact on trails – they are currently more dusty and eroded in some uphill areas.
Rice concurred. "Certainly there are concerns about the amount of users on the trails. We've had to spend a lot of time on trail maintenance to open up the view corridors so they have a safe experience."
Since Boggy Draw is a multiple-use area and trails are not one-way, hikers, mountain bikers, motorcycles and OHVs share the same trails and can meet head on.
"Mountain bikers are the predominant users of the trails," Rice said. "But we have motorized trails in that Boggy system as well, and they are growing in popularity for both motorcyclists and OHVs."
Dolores resident Mark Lange, who frequents the Boggy Draw trail system, said he was concerned about the numbers of people who are digging "cat holes" for their waste.
The Forest Service put up a Porta-Potty at the trailhead, and Rice told the Free Press, "The type of campers we get are usually self-contained and do a pretty good job of minimizing their impacts. The RVs have their contained toilet facilities, and river groovers – river toilets – are set up by many campers."
But he acknowledged that "there is certainly an increase in human waste. We always worry about human waste – that's one of the reasons why we brought in bathrooms."
He said the district has discussed bringing in even more bathrooms, explaining that it is more cost-effective to set up a Porta-Potty from a local company than to build one. "We are aware of the issues with human waste and are monitoring it. If it appears to be a problem we will probably install more bathrooms."
Another concern is fire. There is currently a fire ban in place for all public lands. Large yellow and orange signs are posted along Forest Service roads and at the Boggy Draw trailhead with information about fire danger and the ban. Rangers have installed red flagging on fire pits in dispersed campgrounds to alert people to the fact that fires are prohibited.
Yet Ayers said he has noticed people making fires at some dispersed camp spots at Boggy Draw.
Rice said Forest Service staff are monitoring the area seven days a week. They have increased personnel, including fire program staff, recreation staff, law enforcement and fire personnel.
"Yesterday [June 25] we ticketed people on top of Stoner Mesa for a fire. We patrol through dispersed recreation places, and will have people on the ground over the weekends," he explained.
The Boggy Draw area has been "discovered." Whether it is due to COVID-19, SWCCA's excellent job of developing biking trails, increased popularity of OHVs, or an eight-year-old Outside magazine article, we may never know. What is important is to be respectful of all users as well as the land and the plants and animals that inhabit it, especially during these times of severe drought and high use.
"We all have different impacts on different resources – recreators have impacts as do oil and gas, or roads," Rice said.
When asked what advice he would give to the public, Rice didn't hesitate.
"Tread lightly. Tread lightly."