Indian Country is a vibrant and diverse locale, says Catherine ("Everybody knows me as Cathy") Robbins, author of "All Indians Do Not Live in Teepees (or Casinos)," published by the University of Nebraska Press.
"Modernity and a restorative vision of the past have led to new energy among Native Americans."
Robbins believes the teepee symbolizes this vibrancy. Plains people keep teepees next to their houses for ceremonial purposes or daily living.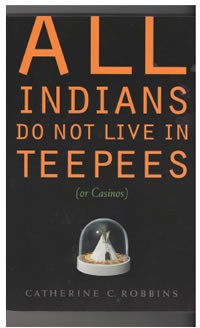 The teepee also reminds us of the diversity of Indians. Navajos build hogans. The phrase "All Indians Do Not Live in Teepees" comes from a Navajo woman.
The book covers a range of issues currently important to Native groups across the nation, including science and medicine; governance, law, gaming, arts, and communication.
To focus these disparate subjects, Robbins used a repatriation theme. The book's introduction provides two examples.
The first happened at Cabrillo National Monument on Point Loma, San Diego. "A gorgeous cliff jutting into the Pacific Ocean," says Robbins.
Sometime between 11,000 and 30,000 years ago, the Yumeyaay Diegueno people settled on Point Loma.
Then Portuguese explorer Juan Rodríguez Cabrillo landed at San Diego Bay in 1542, followed by the Spanish, Mexicans and Americans. By 1990, the Yumeyaay Diegueno had 13 small reservations in the San Diego area. About 2,200 of the 20,000 tribal members lived there.
The Cabrillo National Monument commemorated European conquest. Then in 2006, Yumeyaay Diegouerno elder Jane Dumas got her people their own national flag to fly beside the European banners.
"It is a symbol of the love and sacredness they attach to their occupied homelands — lands they never left," says Robbins.
The second incident involved the 1999 return of 2,000 sets of ancestral remains to the Jemez-Pecos Pueblo in New Mexico from Harvard's Peabody Museum, under the Native American Graves Protection and Repatriation Act.
According to Robbins, the return of the remains was about more than bodies. It was about a community restoring memories "ripped from it."
"Repatriation has expanded the concept of sovereignty," she says. "It is a metaphor for cultural identity and to live as one wishes."
She admits that despite pockets of successful repatriation that keep people "fired up," Native Americans suffer much pain.
"Most Indians live in cities and towns, and life can be very difficult," she sighs. "There's nothing for young people [on reservations] and that's pulling reservations apart."
A native of New York City, Robbins became interested in Indian affairs when she arrived in New Mexico in 1969 as a reporter. She wrote for local papers as well as regional and national publications including the New York Times "when they took me on as one of their army of stringers."
Over the years she collected research and story clips on Native American issues. A 2002 move to California led to an examining of the accumulation.
"I thought there might be a book, but I didn't get serious for a while because we had . . . grandkids to help raise."
Still, she sought Indian people and talked to them about their lives. Soon, she realized she was researching a book.
"I wrote a couple of chapters to show to an agent. The University of Nebraska Press took on the project. And in 2005, I got serious."
Why? "Because I got a contract. And it's like climbing a mountain. It's there. I think the book was inside me for a long time. The more I learned about the Indian people, the more I wanted to know."
Despite her curiosity, she almost dropped the book project because she was not Native American. "Who am I, this white lady writing about Indians?"
Yet, as she studied her notes, she realized she had seen things others hadn't seen and believed she had a right to her vision as a writer and reporter.
She continued seeking out Indian people, exercising caution and using courtesy when she approached them.
In New Mexico, people knew her work and that gave her an entree to explore her ideas and ask them questions.
When she visited Native Americans in other parts of the country, she attended pow wows, and visited casinos, museums, and community centers to meet and eventually talk to people.
Sometimes they decided not to talk. "You just have to shrug your shoulders and find another way to tell the story," she says.
Once she had gathered her research, putting together "All Indians Do Not Live in Teepees (or Casinos)" became "a serious management issue." She had two bankers' boxes full of notes from before she started updating her material by traveling to Indian Country from California to the Dakotas. After her trips, she had more to organize.
Used to cranking out 1,500- to 3,000- word articles, she faced thousands of words and 400 pages in the book, and struggled with chapter order.
"Putting it together was a matter of thinking out the story. Once I realized that repatriation was my theme literally and figuratively, things fell into place."
The book became as much a labor of love as raising her grandchildren.
"It was a good feeling. Though it was hard work, I had a lot of joy."
"All Indians Do Not Live in Teepees (or Casinos)" came out this past September to good reviews. She considers the book an incomplete picture of contemporary Native America.
"Indians are weavers of a destiny far more interesting than any we could make for them," she asserts.