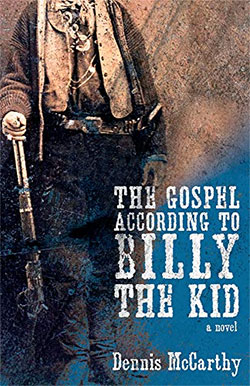 It's been written that the outlaw known as Billy the Kid was born Henry McCarty in New York City in 1859. Or maybe his real name was William H. Bonney, or Wil­liam Wright, or Joseph Antrim. He moved with his family to Kansas in 1870, then to Santa Fe, and finally to Silver City, where his mother died in 1874, setting Billy, age 15, on a path of petty theft and cattle rustling. Or perhaps he was just a rowdy cowhand falsely accused of stealing horses. One thing for certain is that young Billy, following the mur­der of New Mexico Territory rancher John Turnstall in 1878, cast his lot with a group of Turnstall avengers known as the Lincoln County Regulators who took up arms in op­position to the "Santa Fe Ring" of corrupt power brokers fronted by local businessman James Dolan. The resulting conflict would soon escalate into the notorious Lincoln County War of 1878-81.
Billy's role in the Lincoln County War end­ed in July of 1881when Sheriff Pat Garrett ambushed the young outlaw in the darkened Fort Sumner bedroom of rancher Pete Max­well, an incident Garrett would memorialize – some would say fictionalize – in his 1882 book The Authentic Life of Billy, The Kid, the Noted Desperado of the Southwest. In it, Garrett and ghost-writer Marshall Upson credited Billy with having killed 21 men before his 21st birthday, thereby gilding a gun-slinging legend that shines to this day thanks in part to hundreds of subsequent books, articles, and feature films including (and starring as Billy) Billy the Kid (Robert Taylor, 1941), The Left-Handed Gun (Paul Newman, 1958), Pat Garrett & Billy the Kid (Kris Kristoffer­son, 1973), and Young Guns (Emilio Estevez, 1988).
A coda of sorts to Billy's already-murky saga was heard in 1948 when a probate in­vestigator in St. Louis interviewed an elderly man named Joe Hines who not only claimed to have participated in the Lincoln County War, but also claimed that Billy the Kid, whose new identity Hines refused to dis­close, was in fact still alive. The investigator, William Morrison, tracked Hines' intriguing story all the way to Hamilton, Texas, and a man named Oliver "Brushy Bill" Roberts, who eventually "confessed" to being Billy the Kid. According to Roberts, Pat Garrett had shot another outlaw named Billy Barlett that night in Fort Sumner, allowing Roberts to escape to Mexico. His motive for now re­vealing his "true identity," Roberts claimed, was to secure Morrison's help in finally ob­taining the pardon that had been promised him in 1879 by New Mexico's then-governor Lew Wallace (the author, incidentally, of the 1880 novel Ben-Hur.)
Morrison published the results of his investigation in a 1950 book, co-written by Western historian C.L. Sonnichsen, titled Alias Billy the Kid. Roberts, how­ever, died shortly after the book's publication, and the book's claims were imme­diately and hotly disputed, but eventually found pur­chase in the popular culture thanks in part to the release of the 1990 film Young Guns II, again featuring Emilio Estevez as Billy, in which aged narrator "Brushy Bill" recounts his various exploits as Billy the Kid.
Just when you thought there was little more to be said or written about the legend of Billy the Kid, along comes The Gospel According to Billy the Kid, the debut novel of Santa Fe author Dennis McCarthy, brother of Pulitzer Prize and National Book Award recipient Cormac McCarthy. Based in part on the Brushy Bill legend, McCarthy's novel provides a gripping first-person account of the Lincoln County War and of Billy's asso­ciated exploits, which include various shoot-outs, jail-breaks, and gunfights as well as the fugitive outlaw's escape from Fort Sumner and his life in post-Billy anonymity, all of it written in a uniquely unadorned but compelling prose style.
The Lincoln County War, and Billy's central role in its prosecution, is an important and engag­ing chapter in the history of the American West, and The Gospel According to Billy the Kid (University of New Mexico Press) brings that conflict to life in ways to which history books can only aspire. Both propul­sive and poignant, it's a novel worth reading, from a talented new literary voice worth following in the years ahead.
Chuck Greaves/C. Joseph Greaves is the author of six novels including Hard Twisted and Church of the Graveyard Saints. You can visit him at www.chuckgreaves.com.