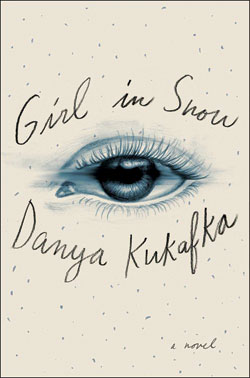 I approached Danya Kukafka's effusively praised and wildly popular debut novel Girl in Snow with trepidation.
I wanted very much to enjoy the book because Kukafka is a fellow Coloradan and, in her mid-twenties, is preposterously young to have written what is widely considered one of last year's top adult fiction releases.
Happily, Girl in Snow, just out in paperback, lives up to its advance billing.
Kukafka's debut features three troubled characters—mentally challenged, 15-year-old Cameron; tough, 18-year-old Jade; and world-worn, 40-something cop Russ—whose lives intersect in the aftermath of the murder in their suburban Colorado neighborhood of high school freshman and golden girl Lucinda Hayes. Despite the fact that each of the three main characters is the potential murderer of the eponymous girl in snow, their foibles make them easy to like.
Kukafka purposefully set Girl in Snow prior to the advent of Facebook, Instagram, and Snapchat, in 2005. Freed of the bother and bombardment of social media, Cameron, Jade, and Russ explore their complex emotional responses to Lucinda's murder in deeply personal ways. Before the murder, Cameron worshipped Lucinda from afar as a creepy peeping Tom. An accomplished artist, he creates sketch after sketch of Lucinda after her death—including a had-to-have-been-there drawing of her corpse, leading him to wonder if he unknowingly killed the girl he loved. Jade envies Lucinda's popularity while, at the same time, the murder of the neighborhood favorite affords Jade the opportunity to face up to her own difficult station in life. Russ, unhappy at work and unlucky in love, is forced by Lucinda's death to assume responsibility for his unflattering past actions.
Kukafka deftly unspools the mystery surrounding the murder while alternating between the points of view of Cameron, Jade, and Russ. As she explores the line between love and obsession, Kukafka's prose, like the teenagers her story features, is dark and brooding one minute and eerily light and airy the next. As Girl in Snow nears its conclusion, readers find themselves pulling for Cameron, Jade, and Russ even as they wonder who among the three killed Lucinda and left her body to freeze on a schoolyard merry-go-round in the dead of winter.
A generation ago, Michael Chabon wrote the intellectually astute and emotionally moving The Mysteries of Pittsburgh when he was barely 20 years old. Chabon's many and varied subsequent books have delighted and enlightened millions of readers in the decades since. Here's hoping the same for Kukafka in the years to come, following the equally astute and moving Girl in Snow.
Scott Graham is the National Outdoor Book Award-winning author of the National Park Mystery Series for Torrey House Press. The fourth book in the series, Yosemite Fall, will be released June 18. Visit Graham at scottfranklingraham.com.