Among the many qualities of Roger Johns' Wallace Hartman Mystery series, one of the most engaging is Johns' generous use of law practitioners as characters, be they wise, murderous, or anything in between.
A fresh lawyer-as-character pops up every few chapters in River of Secrets, the recently released second book in Johns' Southern-noir series featuring tough-and- troubled Baton Rouge homicide detective Wallace Hartman. Attorneys appear as murder suspects, political power brokers, media hounds, and, in one case, learned confidant to Wallace as she works the case of a Louisiana state senator murdered in his capital-city office by the brutally efficient placement of a plastic zip tie around his neck.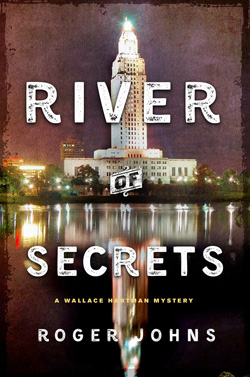 Johns, a former corporate attorney and law professor turned author, clearly knows the weaknesses and foibles of those who practice his initial profession, and he just as clearly revels in sharing with his readers some of the juicier bits of chicanery and skulduggery he witnessed in the course of his legal career.
In River of Secrets, Wallace finds herself in the middle of a budding race war when she is assigned the high profile murder case of State Senator Herbert Marioneaux. After Marioneaux is found dead in his office, the evidence leads directly — perhaps too directly — to firebrand civil-rights attorney Eddie Pitkin. Wallace's forced arrest of Pitkin, despite her doubts, leads to race protests and street riots.
Amid the bloody reopening of Louisiana's age-old racial wounds, Wallace follows the trail of Marioneaux's killer, first out of the city to a lakeside vacation cabin, then back to the menacing heart of Baton Rouge, where the evidence she uncovers leads ever closer to her family, endangering the lives of those she loves most.
Along the way, Wallace directs her suspect interviews with questions ranging from subtle to pointed, scrutinizing suspects for tics indicating guilt or innocence, down to the faintest flashes of awareness deep in inter viewees' eyes.
As she tells one suspect, a member of Baton Rouge's uppermost crust, "I collect information and I pass judgment."
"Based on nothing, as far as I can see," the suspect protests.
"But it's what I see that counts," she replies coolly. "You don't want to fool yourself into believing otherwise."
With just two installments so far in his Wallace Hartman series, Johns is making fast believers out of a lot of readers, leading to his recent nomination for the vaunted Killer Nashville Readers' Choice Award for 2018. River of Secrets' many qualities — zippy plot, witty dialogue, and all those (mostly scurrilous) lawyers —certainly made a believer out of me.
Scott Graham is the National Outdoor Book Award-winning author of the National Park Mystery Series for Torrey House Press. s Visit Graham at scottfranklingraham.com.