Like the best murder mysteries, Colorado author Ausma Zehanat Khan's third Esa Khattak/Rachel Getty mystery, Among the Ruins, is informative and provocative as well as entertaining. Khan, a Muslim writer, editor, and community activist who arrived in Denver by way of Toronto, bases her series on her background as an international human rights attorney.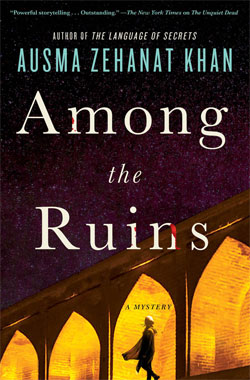 In her first two mysteries, 2015's The Unquiet Dead and last year's The Language of Secrets, Canadian Community Police officers Esa Khattak and Rachel Getty investigated hate-based crimes that threatened to shred Canada's social fabric. The two books were lauded by the likes of the New York Times, Washington Post, and Associated Press as "superb," "compelling," "thoughtful yet suspenseful" police procedurals that offered "powerful insight into the Muslim community."
Khan heads further afield with Among the Ruins, setting much of the story in Iran, with her focus on that country's brutally repressive government.
While on leave and traveling in Iran to reconnect with his cultural heritage, investigator Khattak is asked by a Canadian agent to look into the murder of a Canadian-Iranian filmmaker in the country. Under heavy surveillance, Khattak and his police partner Getty uncover a decades-old conspiracy stretching from Tehran to Toronto, and from the reign of the Shah straight through to the country's viciously corrupt presentday rulers.
The two investigators make for a likable detective duo. Middle-aged Khattak is suave and handsome, devoted to putting his keen intelligence to work helping others, even at his own peril, and even, in the case of Among the Ruins, while on vacation. His young assistant Getty is rougher around the edges, the victim of a violent upbringing still finding her way in the world — save for her devotion to Khattak, which is absolute.
Khattak, in Iran, and Getty, in Canada, use encrypted communication techniques to together unravel the case of the murdered Canadian filmmaker, inexplicably imprisoned and tortured to death despite an assured international outcry. As Khan has Khattak and Getty uncover clues to the case, she takes the reader on a tour of modernday Iran. Khan also reveals the inner workings of the Iranian regime in a heartbreaking side story that details the horrors practiced in secret jails on Iranians who dare challenge their government's legitimacy.
The combined result of the primary mystery and companion thread is an engaging yet poignant tale of intrigue that serves as a cautionary tale for those who believe in the principles of democracy. As Khan makes clear by setting Among the Ruins in both the Middle East and North America, the distance from an open society to behind-bars persecution is never far, whether in repressive Iran, or seemingly free Canada and the U.S.
Scott Graham is the National Outdoor Book Award-winning author of the National Park Mystery Series for Torrey House Press. The third book in the series, Yellowstone Standoff, was released in June. Visit Graham at scottfranklingraham.com.