To paraphrase Gore Vidal on the subject of Joyce Carol Oates, the two saddest words in the English language are Elizabeth Strout.
Strout, who won the Pulitzer Prize for Fiction with her 2008 novel "Olive Kitteridge," generally traffics in mother-daughter dysfunction ("Amy & Isabelle"), grief ("Abide With Me"), gnawing discontentment ("Olive Kitteridge"), and existential angst ("The Burgess Boys"). Masochists among us will be pleased to learn that all of these and more are on display in her latest novel, "My Name is Lucy Barton."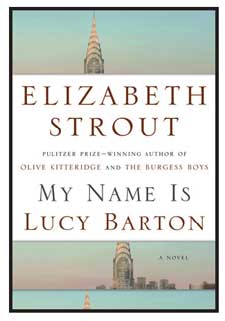 Told in the first person, and from a remove of many years, the novel begins with the eponymous Lucy in a Manhattan hospital, recuperating from an obscure post-surgical complication. One day her mother, from whom Lucy has been estranged for most of her life, appears at Lucy's bedside, where she remains for several days. Let's listen in as the two reunite:
"'Hi, Lucy,' she said. Her voice sounded shy but urgent. She leaned forward and squeezed my foot through the sheet. 'Hi, Wizzle,' she said. I had not seen my mother for years, and I kept staring at her; I could not figure out why she looked so different.
'Mom, how did you get here?' I asked.
'Oh, I got on an airplane.' She wiggled her fingers, and I knew there was too much emotion for us. So I waved back, and lay flat. 'I think you'll be all right,' she added, in the same shy-sounding but urgent voice."
An awkward rapprochement ensues, during which we are offered glimpses into Lucy's past. Her family was dirt poor, we learn, and emotionally distant. Her childhood was one of material privation and social humiliation. When juxtaposed with the snippets we are afforded of Lucy's adult life – the husband who never visits, and the young daughters about whose well-being she seems oddly ambivalent – we see that the wounds of her youth have scarred her, and that mother and daughter, despite their vast differences in schooling and worldliness, are not so dissimilar after all.
Another vein that marbles the text is post-convalescent Lucy's own marriage, divorce, and remarriage. This older Lucy is a successful novelist, and her new husband an accomplished classical musician. But despite the objective security of her circumstances, Lucy remains haunted by her old demons, and fleeting references to psychiatry and cosmetic surgery hint at the irremediable nature of childhood traumas that, like Marley's ghost, still jangle their chains in the warm Manhattan night.
The book is short – practically a novella – and reads at times like pages torn from the author's personal journal. The writing is spare, and is almost child-like throughout. For example:
"'Mommy,' I said, bolting upright. 'Mommy, please don't go!'
'I'm not going anywhere, Wizzle,' she said. 'I'm right here. You're going to be all right. You'll have a lot of stuff to face in your life, but people do. I've seen some of it in your case, I mean I've had some visions, but with you –'
I squeezed my eyes shut – Don't you fucking cry you little idiot – and I squeezed my leg so hard I almost could not believe how much it hurt. Then it was over. I turned onto my side. 'With me what?' I said. I could say it calmly now."
If you might have expected more from a Pulitzer Prize winner, you're not alone. If, on the other hand, you enjoy grimly pensive introspection served with a side of disjointed abstractions on the nature of family, happiness, denial, and forgiveness, then "My Name is Lucy Barton" ($26, from Random House) is just your ticket.
Chuck Greaves is the award-winning author of five novels, most recently Tom & Lucky (Bloomsbury), a Wall Street Journal "Best Books of 2015" selection. You can visit him at www.chuckgreaves.com.