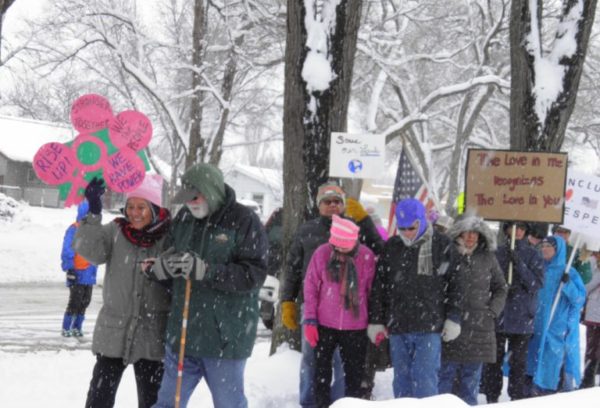 About 500 people in Cortez joined more than a million people worldwide in the Women's March for Unity Saturday – a demonstration for civil rights and progressive causes and a protest against Donald Trump's administration.
Braving eight inches of slushy snow, the Cortez marchers walked down Montezuma Avenue from City Park to City Market and back along Main Street. They carried signs ranging in tone from amusing to angry to passionate: "The 1950s are knocking – don't open the door"; "Sex change for Trump"; "Tiny hands off public lands"; "There is no Planet B"; "My p—y grabs back"; and the now-classic "Love trumps hate." Some quoted Bible verses, such as, "I was sick and you looked after me" – on a sign expressing concern about the future of health care in America.
Meanwhile, marches were occurring in every state in the union, according to published reports. In Colorado, 100,000 people gathered near Denver's Civic Center, according to the Denver Post. The protests appeared to indicate a newly energized progressive movement after a divisive presidential election in which the popular-vote winner by some 3 million votes did not take office.
Montezuma County strongly supported Trump in the election, choosing him by a 2-1 margin over Hillary Clinton. But Saturday's march occurred without incident, drawing mostly curious stares or supportive honking and waving from passing drivers.